BOWLING PARTY IS BY TIME:
Monday-Friday 9am-5:30pm:
$50.00 for 1hr (per lane—includes shoes)
Saturday & Sunday & Weekdays after 6pm:
$50.00 for 1hr (per lane—doesn't include shoes)
Shoes $4.50 (plus tax) per pair
(Maximum of 5 children per lane)
Our birthday room is available at no charge and you may decorate it anyway you like. Call Alley Kat Lane for booking availability.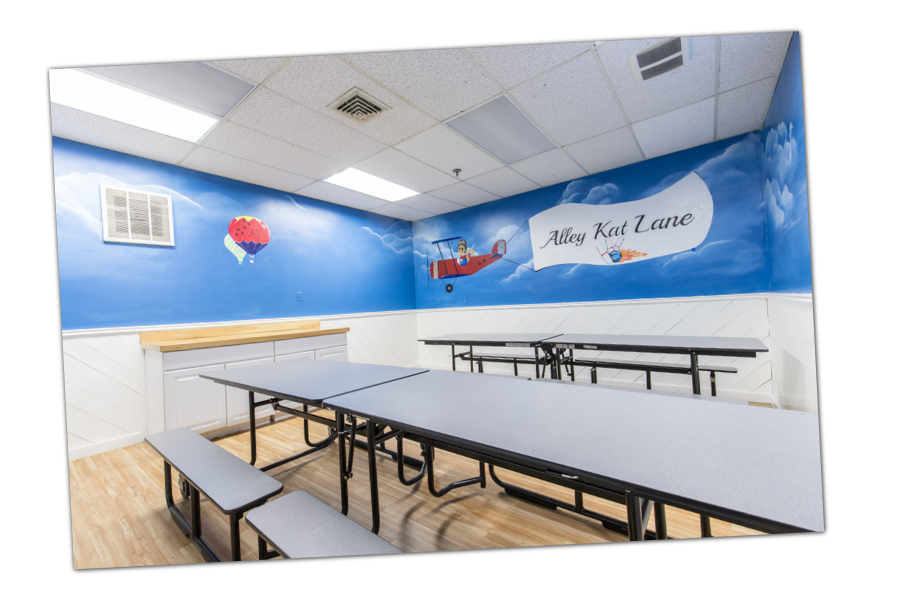 If you wish to bring outside food it must be served in the birthday room. If you prefer, you may order food from Alley Kat. We can order everything from pizza, cake, and goodie bags. We have a refrigerator and a freezer if you need us to hold food while you are bowling. You have 45 minutes in the room, which is plenty of time for pizza, cake and ice cream. Our birthday room has two ten foot tables with benches attached.
ARCADE BIRTHDAY PARTY:
$50 setup fee
$20 per card with $10 bonus play per child (min of 10 children)
$20 per card with $5 bonus play per child (less than 10 children)
BIRTHDAY PARTY WITH ARCADE:
$25 per person
Includes 1hr 45min in birthday room and $10 arcade card
BIRTHDAY PARTY EXTRAS:
3' Blow Up Pin w/autograph pen $11.00
Goody Bags Filled w/prizes $2.75/ea.

FOOD EXTRAS:
Pizza:
16" Cheese (large) $14.00
16" Pepperoni (large) $15.00
10" Cheese Pub Pizza $9.95
10″ Onion & Pepper, or Mushroom Pub Pizza $10.95
Hot Dogs $3.75 each
Please give us a call (781-585-2191) if you have any questions regarding your birthday/private party or if you'd like to make a reservation.
PLEASE NOTE THAT ALL PRICES ARE SUBJECT TO CHANGE WITHOUT PRIOR NOTICE.